Every now and then I am surprised by a melon variety I wasn't aware existed. My latest find was lemondrop melon, which has a yellowish, netted exterior and pale green grooves. It is a hybrid variety or melon, which achieves a perfect blend of sweetness and citric acid content. In the United States they are typically grown in Arizona and sold under they brand Kandy.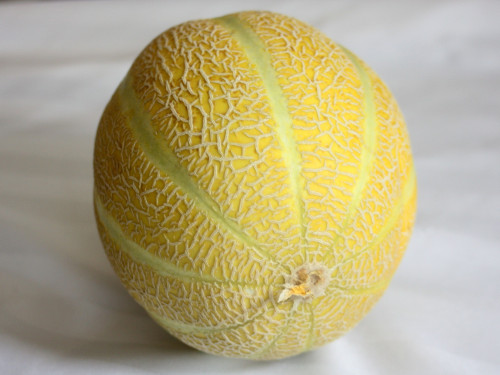 When you cut into the melon it looks similar to honeydew, with its light green flesh and minimal seeds. But what about taste?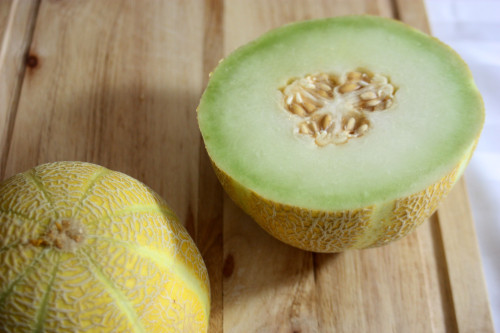 I have to admit the taste surprised me. I was expecting it just to taste like honeydew, but it was more complex. The lemondrop melon has a sweet-tart taste that is equal parts honeydew-sweet and lip-puckering lemon. I can see why it is marketed under the brand Kandy, since the flavor and rate at which it will disappear from your refrigerator is similar to candy.
It seems almost a shame to do anything to mask the unique flavor, so I decided to keep my additions light and made a melon and mint salad.
I mixed slices of the melon with mint and a dressing of orange juice and honey to accent the dominant flavors of the melon, then added a final touch of chia seeds for a bit of color and texture contrast. The result was a thumbs up from the entire family.
Irresistible taste combined with a healthy alternative to other sweet-tooth fixes, means I plan on keeping lemondrop melon on my summertime shopping list.  I hope you get a chance to try this refreshing melon too!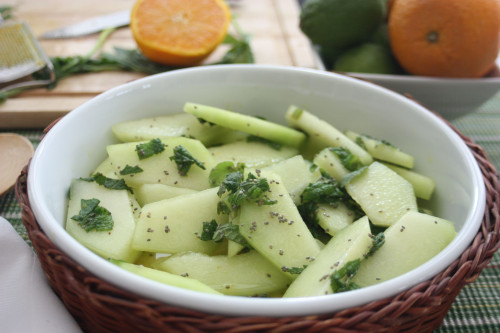 ---
Lemondrop Melon & Mint Salad
1 lemondrop melon
¼ cup fresh mint leaves
2 tablespoons orange juice
2 tablespoons clover honey
1 teaspoon chia seeds
¼ teaspoon orange zest
Remove the rind and seeds of the lemondrop melon, then cut it into small wedges. Place four cups of the wedges into a large bowl (reserve the remaining ~ 2 cups for another use), then chiffonade the mint leaves and add to the bowl. In a small bowl, stir together the orange juice, honey, chia seeds, and orange zest, then pour over the melon and stir until all the ingredients are well mixed. Serve immediately, or refrigerate until ready to serve (though I recommend stirring in the mint right before serving to prevent wilting).
(1997)