Many people kick-off the new year with certain foods as a way to try to usher in good luck for the entire year.  For example, lentils are thought to represent wealth for the new year. While I don't make certain meals as talisman, I do think reinvigorating my healthy meal preparation by including lentils in my cooking is a great idea. I also can't seem to ignore the beautiful color range of the dried lentils, from salmon-pink to pale-moss-green, which beckons me to add a lentil recipe to my repertoire.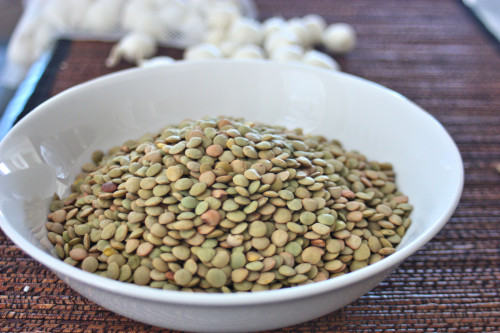 Lentils, which are high in protein and fiber, are quite easy to prepare. A quick and tasty way to try lentils is with a French style lentil salad.  The lentils are boiled in water until tender yet chewy, then drained and topped with a red wine vinaigrette.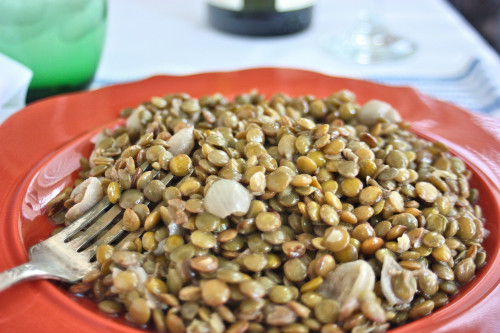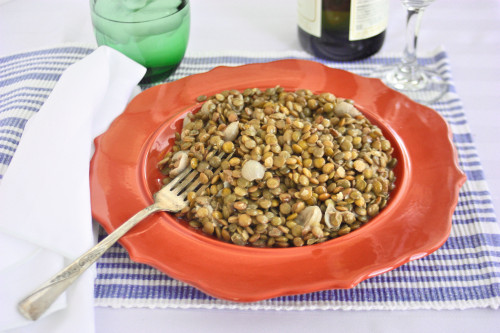 The lentil salad was a satisfying and delicious addition to lunch this week, and surprisingly, enjoyed by young and old alike!
---
Lentil Salad
2 tablespoons olive oil
10 pearl onions, peeled and cut in half
1 ½ cups green lentils
3 cups water
½ cup olive oil
1/3 cup red wine vinegar
2 teaspoons Dijon mustard
½ teaspoon freshly minced garlic
¼ teaspoon salt
Add the olive oil to a medium sized pot and heat the oil over medium heat. Next, sauté the onions for three minutes, then add the lentils and water to the pot. Bring to a boil and then reduce to a simmer and cook for 20 minutes or until tender but still chewy. Drain the lentils and add them to a bowl. In a separate small bowl, stir together the olive oil, vinegar, mustard, garlic, and salt. Pour over the lentils and stir to coat. Refrigerate until ready to serve.
(739)