With January 1st comes a re-commitment to New Year's resolutions, resolutions such as:
(1) Eating healthier
(2) Trying something new
You can accomplish both with the babaganoush I made this week. Babaganoush is a an eggplant based dip with a variety of other spices depending on the origin of the recipe you use. I have used Ellie Krieger's recipe with a few tweaks on quantity ( I increased the garlic and I added lemon zest and red pepper flakes) since I love her simplistic approach to the dish which borrows from the Israeli (the use of tahini) and other Levantine cultures (parsley, garlic, and lemon). Since the majority of the dip is eggplant, this really is a guilt free snack!
After roasting the eggplant I blended all the ingredients except for the parsley in a food processor until smooth. I then stirred in the parsley and served it with pita wedges for a tasty appetizer. It also served as a good excuse for a gyro lunch (OK, maybe that part wasn't so healthy).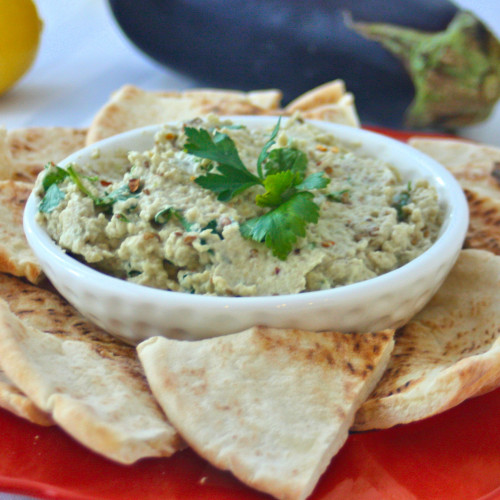 I hope we are all successful this year in keeping our resolutions, including the ones mentioned above!
---
Babaganoush
1 large eggplant (~ 1 pound)
1 teaspoon freshly minced garlic
¼  teaspoon salt
2 tablespoons tahini
2 tablespoons lemon juice
zest of one lemon
¼ teaspoon red pepper flakes
¼  cup chopped fresh flat-leaf parsley
Fresh pita bread or pita chips
Preheat oven to 450 °F.
Prick eggplant with a fork and place on a cookie sheet. Bake the eggplant until it is soft inside, about 20-30 minutes. Remove the eggplant from the oven and let cool, then cut the eggplant in half and scoop the pulp into a food processor. Add the garlic, salt, tahini, lemon juice, lemon zest, and red pepper flakes to the food processor and process the ingredients until a smooth dip is formed. Transfer to a medium sized bowl, stir in the parsley, and serve with pita wedges or pita chips.
(631)