Quick and easy (and red, white, and blue!) treats are a great way to add a bit of fun to your Independence Day celebration. What I decided to make for this year are licorice "sparklers", which are are just a new twist on chocolate coated pretzel rods.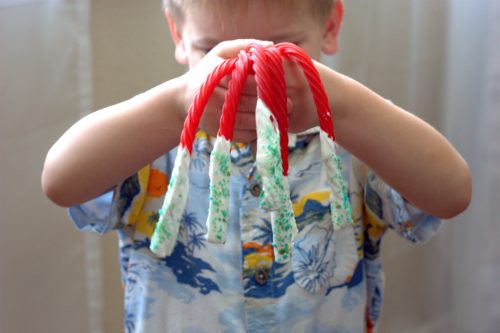 Instead of pretzels, red vine licorice gets dipped in white candy melt and sprinkled with blue sugar, sprinkles, or pop rocks.  Using pop rocks as the dash of blue is a fun way to add a bit of surprise to these licorice "sparklers", it just requires that they are consumed shortly after are made in order to retain the pop rock fizz.
(R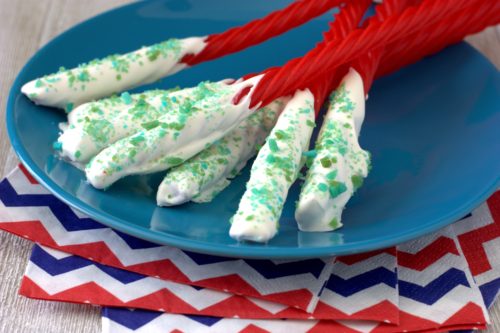 Licorice "Sparklers"
8 ounces white candy melt
10 ounces red vines (about 30)
one, 0.24 ounce packet of blue pop rocks, or blue sugar or sprinkles
lay out a large sheet of wax paper, Melt the candy melts according to their package direction, and then one at a time dip the red vines in the melted candy, coating about a third or the red vine.  Place the dipped red vine on the wax paper. Once a few red vines have been dipped and the coating is beginning to set, sprinkle a bit of the pop rocks/sprinkles on top.   Repeat with the remaining red vines.  Once the candy coating is set, the licorice "sparklers" are ready to serve.  Store in a sealed container or zipped plastic bag.
(91)