It is that time of year again where the benefits program offered by my employer encourages healthy eating choices.  By choosing "superfoods" such as beans and legumes I can earn points faster, so I tend to incorporate them even more than I already do in my diet.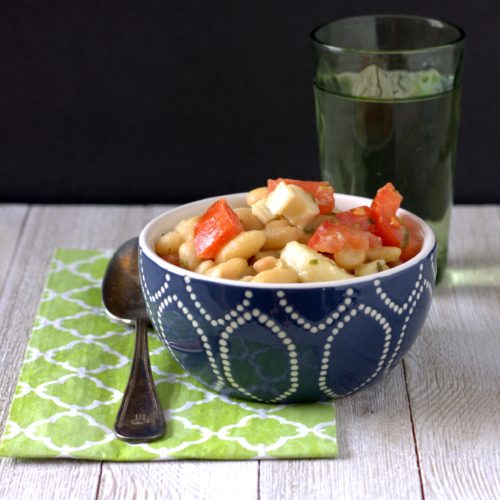 With this in mind I have been on the search for beans I haven't tried and I stumbled upon mayocoba beans.  They are a smooth white bean, similar to a northern bean, and equally as mild.
I decided on a basil vinaigrette and tomatoes and heart of palm as mix-ins, which was a decision based on using up some leftover ingredients.  The resulting mayocoba bean salad was a fresh dish that I most certainly will make again.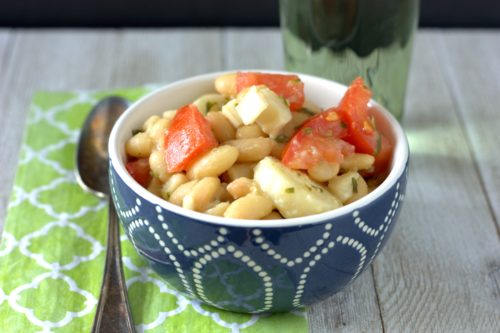 Mayocoba Bean Salad
1 lb dry mayocoba beans
6 cups chicken stock
14 ounce can of hearts of palm, drained and chopped
1 lb vine-riped tomatoes, destemmed and chopped
½ cup olive oil
¼ cup white vinegar
4 tablespoons basil stir in paste
½ teaspoon salt
½ cup grated pecorino Romano cheese
Soak the beans overnight, then drain and rinse.  Add the beans and stock to a large pot and bring to a boil.  Reduce the heat to a simmer, and cook for 1.5-2 hours or until beans are tender, but firm.  Drain and add to a large bowl. Add the tomatoes and hearts of palm.  In a separate bowl, stir together the oil, vinegar, basil paste, and salt.  Pour over the bean mixture and stir to coat.  Stir in the cheese and serve.  Refrigerate any leftovers.
(443)