We are big fans of peanut butter in my house, so when I saw a jar of peanut butter powder I knew I wanted to try it.  All the taste of peanut butter with very little fat? Sign me up! I thought it would be a great way to sneak in another high protein meal. I decided to make a Peanut Butter Smoothie Bowl to start my day off right.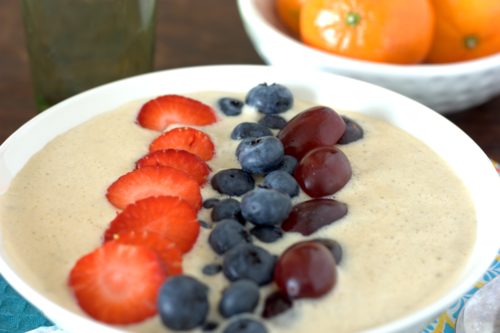 The blend of vanilla almond milk, oats, chia seed, and peanut butter powder makes a thick smoothie with a great peanut butter flavor.  I also loved that it covered a bunch of other nutrients for my day: 45% of my calcium intake, 60% of my daily fiber, and a whopping 21 grams of protein and only 4.5 grams of fat.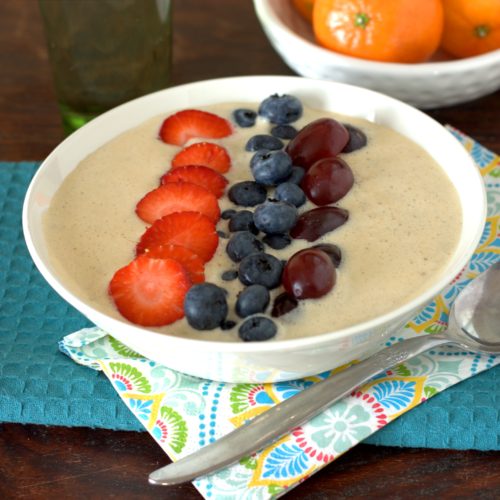 It turns out my kids wouldn't let me eat it all by my myself.  They scavenged some of my meal, but I'm not complaining.  I'm always looking for ways to make their meals just a bit healthier.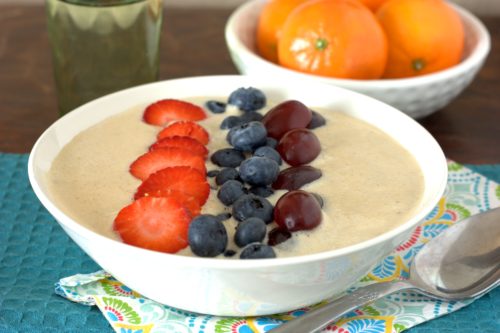 Lowfat Peanut Butter Smoothie Bowl
1 cup vanilla almond milk
¼ cup rolled oats
2 tablespoons chia seeds
4 tablespoons peanut butter powder
Assorted, chopped fruit (strawberries, blueberries, grapes, etc.)
 Add the almond milk, oats, chia seeds, and peanut butter powder to a mixer or food processor and blend until smooth.  Pour into a bow and let sit for 5 minutes.  Garnish the top with the desired amount of fruit and serve.
(214)