Have you heard of matcha? I'm sure you have.  It is one of those "in" ingredients these days.  I have put of trying it because green tea ranks below most other flavors of tea in my book. I tend to prefer spicy/cinnamon or earl grey rather than the earthy flavor of green tea.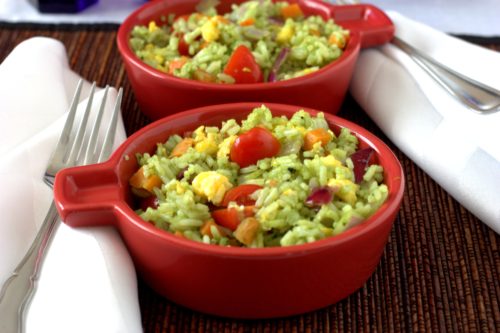 None the less, I was still intrigued. One of the hypes of matcha is the concentrated antioxidants it offers. Instead of steeping tea leaves in a bag, you are essentially consuming finely ground tea leaves. In addition to beverages, it has found its way into food items, even dessert.  I was determined to try it in an entrée and decided to make a version of my fried rice.  I started with my Ham Fried Rice recipe, and eliminated peas, ham, soy sauce, oyster sauce, and ginger. I added matcha as my replacement spice and a bit of baby tomatoes for added sweetness. The result was a light and refreshing Matcha Fried Rice that was well balanced.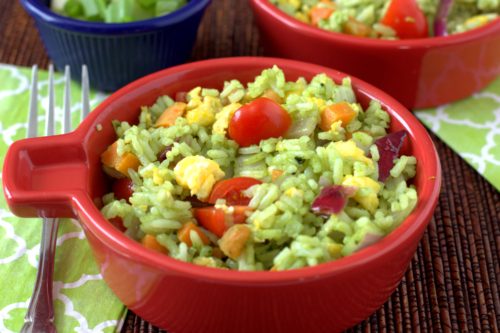 This festive dish has been a fun lunch this week and I look forward to experimenting with matcha in other recipes.
Matcha Fried Rice
4 tablespoons butter
1 cup diced carrots
1 cup diced red onion
4 cups cooked long grain rice
1 1/2 teaspoons matcha
2 large eggs
½ cup baby tomatoes, chopped
4 green onions, chopped
Add 4 tablespoons of butter to the pan and heat until melted over medium-high heat. Add carrots, and onion, and saute for 3 minutes or until onions begin to soften. Immediately add the rice, and matcha, and stir until combined. Continue stirring for an additional 3-4 minutes to fry the rice. Keep warm.
Coat a non-stick pan with cooking spray then heat over medium heat. Add eggs, and cook until scrambled, stirring occasionally. Remove egg, and stir into rice mixture, along with the tomatoes and green onions.  Serve immediately.
(662)