My husband is on a hash brown kick for his breakfast, choosing to start the day with a big meal to make sure he has the energy to keep up with our children.
Store bought hash browns are convenient, but can get pricy, so I was determined to find a method of prepping hash browns that wouldn't result in immediately oxidized (i.e. brown discoloration) potatoes. My goal was to find the easiest and most repeatable prep ahead hash brown method that would allow me to store fresh hash browns in the refrigerator for ~4 days or that were easy to transfer from freezer to pan.
Online searching netted a few options, all of which had a common theme – blanch the potatoes to stop the oxidation. I narrowed it down to two methods to try:
The Taste of Home method works perfectly. Blanched hash keeps in the refrigerator for 3-4 days and frozen packets were easy to thaw.  In addition, the hash stayed in distinct strands when cooked.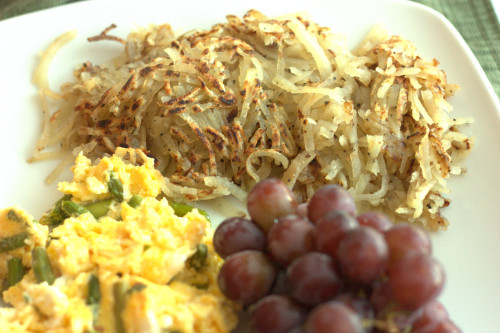 The blanched, whole photos just resulted in a mess. The method suggested freezing for ~ 6 hrs before shredding. I didn't get to shred my potatoes at that mark, and the result was that I had SOLID hunks of potato that could not be shredded without partially thawing first. Thawing frozen whole potatoes takes a while, and then shredding and refreezing resulted in oxidation of the potatoes. Cooking did not reverse the oxidation like some websites suggest, and the consistency of the cooked hash was a bit mushy and didn't taste as good as the hash made using the Taste of Home method.
Hence, the Taste of Home method is what I plan to stick to for my prep ahead hash browns. To cook them, I season simply with some garlic powder, onion powder, salt, and pepper, and then fry them in a bit of oil until golden and crisp.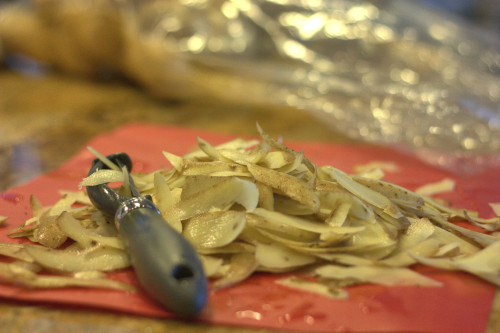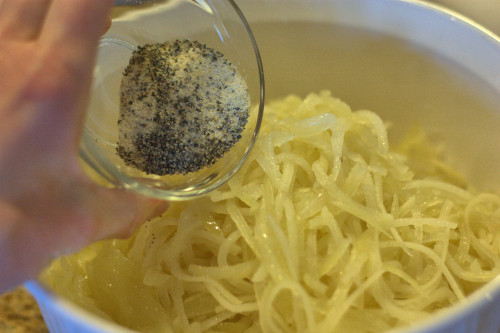 Treating myself to a heaping plateful of hash browns makes for a smile-worthy start of my day. These hash browns could almost substitute for my occasional French fries cravings. Almost. Both Russet and Yukon Gold yield great tasting hash browns (shown below on two different days), so feel free to use your favorite.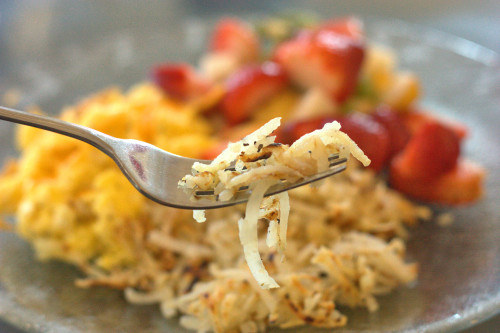 ---
Hash Browns
2 lbs Yukon gold potatoes (makes ~ 1 ½ pounds shredded potatoes), shredded and blanched
1 teaspoon garlic powder
1 teaspoon onion powder
½ teaspoon black pepper
½ teaspoon salt
2 tablespoons oil
Toss the shredded potatoes with the garlic powder, onion powder, black pepper, and salt until evenly coated. In a 12-inch, non-stick skillet heat the oil. Add the shredded potatoes. Cook the potatoes, turning frequently, until the hash browns are browned to your taste. Remove from the stove and serve immediately.
(800)