I'm often amazed at how many variations there are on classic recipes.  Take for example Stuffed Mushrooms. When I first started making these I used leftover bratwurst from a summer BBQ and I have been doing so ever since. I have even used the stuffing base in other recipes, such as my Stuffed Acorn Squash.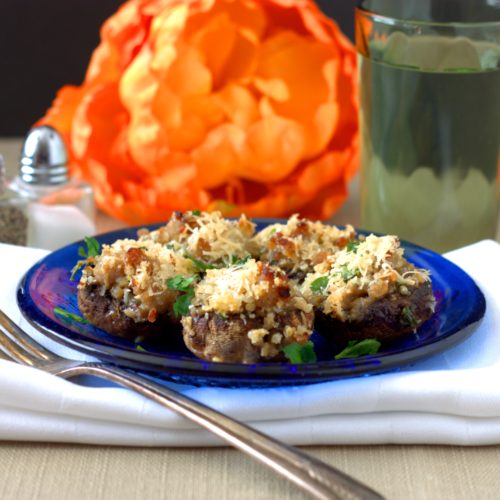 In addition to bratwurst meat, the stuffing includes breadcrumbs, onions, cheese, and fresh parsley.  The combination is a wonderful, savory starter.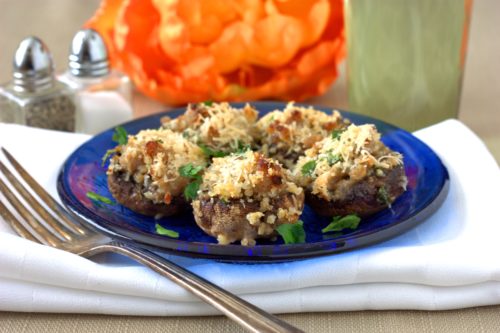 The instructions below start from an uncooked bratwurst, just in case you want to make these anytime.  If you do have some cookout leftovers, the timesaving instructions are noted as well.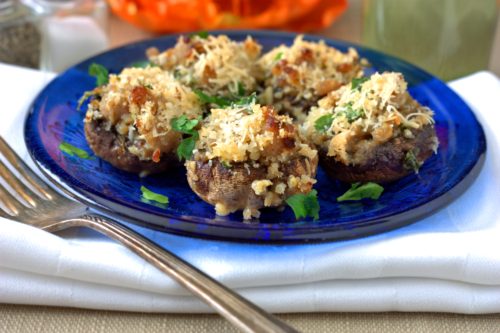 Stuffed Mushrooms
1 lb button mushrooms
1/3 lb uncooked bratwurst (~1 bratwurst)
1/2 Cup yellow onion, diced
1 Tablespoon freshly minced garlic
¼ cup seasoned breadcrumbs
2 tablespoons fresh, minced flat leaf parsley
¾ cup pecorino-Romano cheese
Preheat oven to 350 F.
Wash mushrooms, then remove stems.  Mince the stems and set aside.  Place the mushroom caps (top down) in a large, greased casserole or 9×13 pan.
Add 1-2 tablespoons olive oil to large sauté pan, and place over medium high heat. Remove the bratwurst meat from the casing and add to the saute pan. Saute the bratwurst meat, breaking it apart with a spoon, until it is cooked throughout. Remove the cooked meat, place in a large bowl, and set aside. Add the minced mushroom stems and onions to the man and cook, stirring frequently, until softened – about 5-8 minutes.  Add the garlic and cook for a few minutes longer.
Remove from the heat, and add the mushroom stems and onions to the bratwurst meat, along with the breadcrumbs, parsley, and ¼ cup of pecorino Romano cheese; Stir to combine.  Evenly divide the stuffing between the mushroom caps, then sprinkle the tips with the remaining cheese.
Bake for 30-40 minutes, or until cheese begins to melt and brown slightly. Remove from oven and serve.
Note: If you have a leftover, cookout bratwurst, place brat in food processor and process for about 20 seconds, until well minced to eliminate the meat-cooking step.
(401)