Today's Three Bean Salad is a husband-inspired dish.  In fact, it is what he calls "super salad" a mix of good-for-you greens, beans, and other super foods.  It is his favorite way to boost his veggie and protein intake at lunchtime, often adding this salad over a bed of mixed greens and topping with a packet of tuna.  I can't deny that it is a great lunch and I LOVE that he gets the kids to eat it for lunch as well.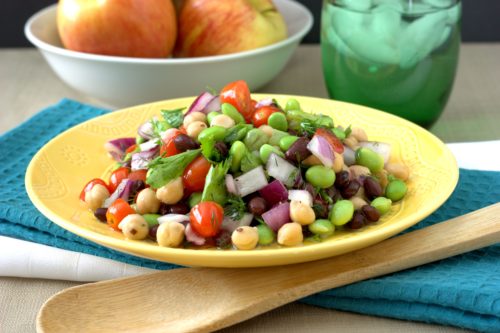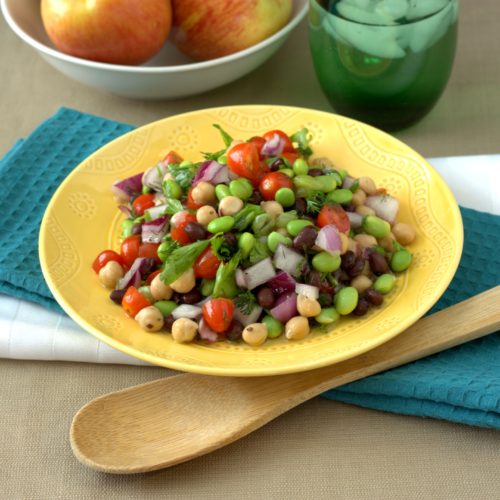 If you are looking for a great way to jumpstart an eating healthier resolution, let's review just some of the super powers of this Three Bean Salad:
Edamame, garbanzo beans, and black beans: Good sources of fiber, protein, calcium, and iron

Tomatoes: Good source of lycopene, and vitamins A & C

Red onions, Dill, Parley, and Lemon Juice: great sources of flavonoids

Garlic: considered "anti-cancer", and "anti-inflammatory" among a long list of other benefits
We often swap in and out other good for you veggies and herbs, while keeping the beans as a base.  For example, we have been known to stir in avocado, green onions, or apples at times.  I hope this recipe inspires you to create your own super salad.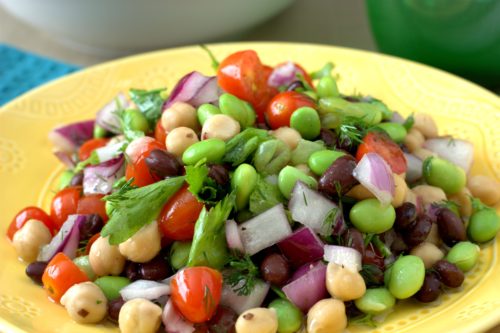 Three Bean Salad (a.k.a Super Salad)
1 1/2 cups frozen, shelled edamame
1 cup canned garbanzo beans, drained and rinsed
2 cups baby tomatoes, chopped
1 cup diced red onion1 cup canned black beans, drained and rinsed
4 tablespoons fresh dill, chopped
4 tablespoons fresh flat leaf parsley, chopped
¼ cup lemon juice
½ cup olive oil
1 tablespoon honey
½ teaspoon freshly minced garlic
¼ teaspoon salt
¼ teaspoon black pepper
 
Cook the edamame according to the package directions, then drain and add to a large bowl along with the garbanzo beans, tomatoes, black beans, onion, dill, and parsley.  In a small container, mix together the lemon juice, olive oil, honey, garlic, salt and pepper until well blended.  Pour the dressing over the beans and stir to coat.  Refrigerate until ready to serve.
(293)