I have a rather large bag of steel cut oats sitting in my pantry and I decided it was time to find other ways to incorporate them into my diet. Steel cut oats are a great source of fiber and protein, so I really have nothing to complain about. 
I was in the mood for something that would qualify as a side dish or an entrée, rather than a breakfast item.  The resulting Tuna & Oat Bowl is more of an updated version of tuna noodle casserole.  Instead of noodles, the dish has a large serving of steel cut oats. The addition of tomatoes, dill, and goat cheese round out the dish and add a fresh taste. As an extra bonus there is no baking involved so it is quick to get on the table.
While the Tuna & Oat Bowl might not be the most photogenic, I found that it was a great dish for lunch since it kept me satisfied for a long time.  It looks like I may have found a way to finish all of my steel cut oats!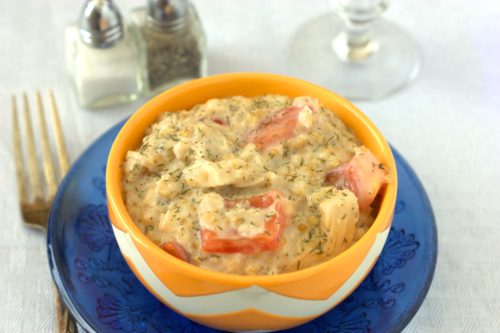 Tuna & Oat Bowl
4 cups water
½ teaspoon salt
2 cups steel cut oats
4 ounces goat cheese
2, 7 ounce cans tuna, drained
1 ½ cups chopped tomatoes
1 tablespoon dry dill
¼ teaspoon salt
Bring water and salt to a boil in a large sauce pan.  Add the oats, cover, and simmer for 10-15 minutes, covered, or until liquid is absorbed and the oats are tender but chewy.  Remove from the heat and let sit a few minutes. Next, stir in the goat cheese until the oats are coated.  Next add the tuna, tomatoes, dill and salt, stirring to combine.  Serve; refrigerate any leftovers.
(8410)