I have had a taste for lentils, but wanted to create a sauce with a different flavor profile than my Caponota Red Lentils or Lentil Salad.  What came to mind was a dish reminiscent of saag paneer.  I toyed with the idea of adding spinach to my Madras Curry Lentils but ultimately decided to keep the dish about the lentils and streamline the sauce.
The sauce for saag paneer often has a blend of garlic, fenugreek, garam masala, turmeric, ginger, and cayenne pepper among other spices.  I noticed that hot madras curry powder uses many of these ingredients, so as a time saving measure I opted to just use the curry blend. The heat of the spice is muted a bit by the cream sauce, but still added a good kick to the lentils.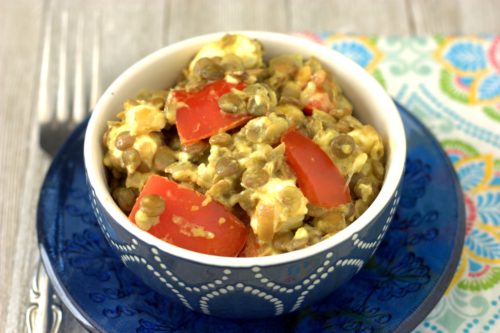 The addition of tomato and feta brightens and lightens the dish.  I also liked the creaminess that the feta added to the Madras Curry Lentils. While seeking out and adding paneer would be more in keeping with the theme of the dish, I regularly have feta on hand and thought it made a great substitute.  I'd love to hear about your variations on this recipe, whether cheese or curry substitution.
Madras Curry Lentils
1 cup lentils
4 cups water
2 tablespoons butter
½ cup diced shallots
2 teaspoons hot madras curry powder
¼ teaspoon salt
½ cup half and half
1 tablespoon flour
1 cup diced tomato
½ cup feta cheese
Place the lentils and water in a large sauce pan and bring to a boil.  Reduce heat and simmer for 15-20 minutes, or until lentils are tender.
In a separate, non-stick pan, melt the butter and add the shallots.  Saute the shallots, stirring frequently, until the shallots begin to brown (about 8 minutes). Add the curry, salt, and half and half and bring to a boil, then add the flour and stir until thickened; remove from the heat.
Drain the lentils and pour the curry sauce over the lentils, stirring to combine. Add the tomatoes and feta, stir to combine, and serve.
(181)