A few weeks ago I had the pleasure of meeting up with a friend at Next Door Eatery in Denver. One of the things I respect about this restaurant is their commitment to the farm-to-table concept.  This reminded me that it had been awhile since I had purchased meat from local farmers, especially lamb. This got me thinking of lamb dishes, resulting in this Tzatziki Tacos recipe.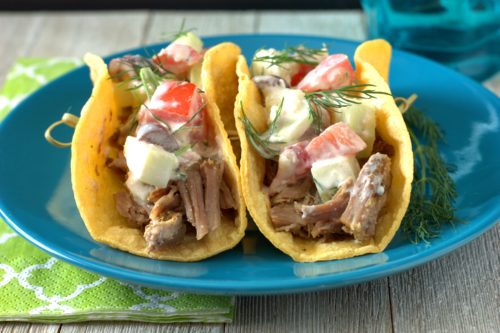 I decided to modify the traditional tzatziki sauce of yogurt, cucumbers, garlic, dill, and lemon by making it a cross between a salad and salsa. I accomplished this by adding tomatoes, feta, and Kalamata olives and keeping the cucumbers as chunks (rather than blending them into the sauce). I then used this fresh salad as a topping to balance the hearty taste of the shredded lamb, served in a toasted corn tortilla.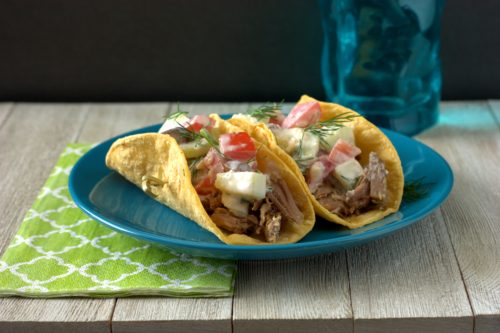 My husband thought these were fantastic, making me wish I had made a double batch. If you are looking for a fun, new take on tacos (or gyros), try these Tzatziki Tacos!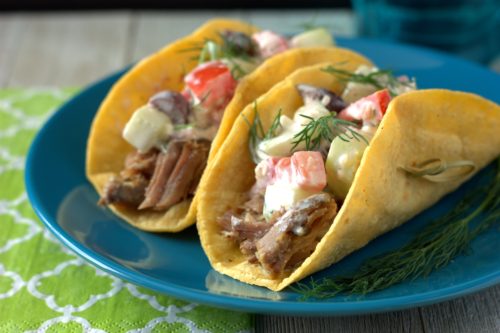 Tzatziki Tacos
 1 ½ pounds lamb shoulder chops
½ cup beef stock
1 cup diced Roma tomatoes
1 cup peeled, diced cucumber
½ cup crumbled feta
¼ cup chopped Kalamata olives
½ cup plain, Greek yogurt
2 tablespoons chopped fresh dill
1 tablespoon minced fresh garlic
1 teaspoon  lemon juice
10 yellow soft corn tortillas (~6 inch diameter)
 
Place the lamb and beef stock in a 4 quart slow cooker and cook on high for 4 hours. 
While the lamb is cooking, prepare the tzatziki salad.  Place the tomatoes, cucumbers, feta, and olives in a large bowl.  Add the yogurt, dill, garlic, and lemon juice and stir to coat and mix well.  Refrigerate until ready to serve the tacos.
After the required cooking time, remove the lamb from the slow cooker. Then, remove the bones and fat from the lamb and shred the remaining meat; set the meat aside and keep warm.
Lightly toast the corn tortillas on both sides in a non-stick skillet.   To serve, evenly divide the lamb between the tortillas, and top with the tzatziki salad. Serve immediately.
(301)