A few of my posts to date have discussed recipes I received as a gift at my wedding shower, such as Pistachio Cake and Chopped Veggie Salad.  Today is another one of those recipes.  The recipe my Aunt Kelly added was a Spinach and Strawberry Salad.
A few years ago I made this salad for an Easter gather of friends and it has been requested every year since then.  This year is no exception, so I will be making the original recipe as well as my new version, a Spinach and Blackberry Salad.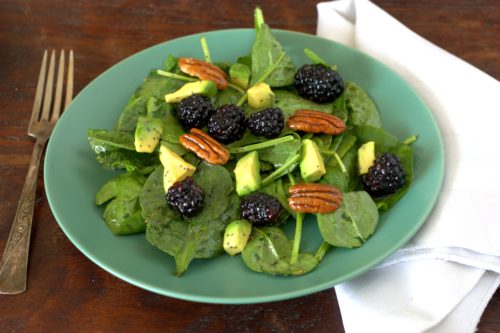 I have kept the dressing the same, as I find the sweet poppy seed dressing is a huge draw. What I did swap out is the strawberries, which I replaced with blackberries, avocados, and pecans.
I knew it was a winner when my kids (who have been on a streak lately to proclaim they are hungry just after finishing a meal) each ate a full plate as if I was serving them ice cream.
I am looking forward to the verdict at Easter: strawberry version or blackberry version?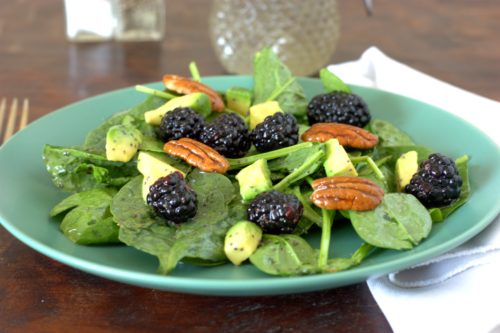 Spinach and Blackberry Salad
Two, 9 ounce bags of baby spinach
18 ounces fresh blackberries
2 avocados, peeled and diced
1 cup pecans
0.75 ounces fresh mint, finely chopped
¾ cup canola oil
½ cup white sugar
1/3 cup white vinegar
1 ½ tablespoons grated onion
1 teaspoon dry mustard
1 teaspoon salt
2-3 tablespoons poppy seeds
Place spinach, blackberries, avocado, and pecans in a large bowl. Add the oil, vinegar, sugar, onion, mustard, salt, and poppy seeds to a blender.  Cover and process until combined.  Pour the dressing over the salad and toss to combine. Serve immediately.
Note: This salad does not keep well once the dressing has been added.  Pour the dressing over the salad just before serving.
(152)