Holiday mornings just beg for a breakfast casserole.  I have always enjoyed the classic cheddar & sausage casserole that my mom would make for special occasions. Last year at Christmas time, my sister and I tried a few new ones that got me thinking of creating my own.  I decided to build a breakfast casserole around apple butter since the spicy-sweet treat is hard not to love.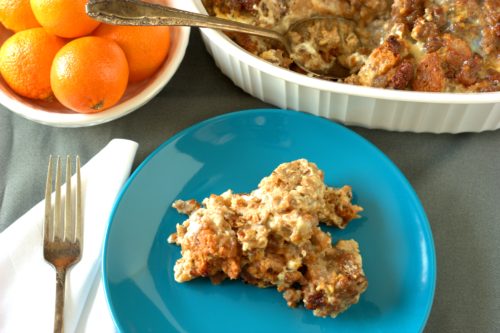 I mixed in raisin bread and maple syrup for added sweetness and balanced it with a maple breakfast sausage and goat cheese. The result is a breakfast casserole that appeals to the young and old alike. I also love that I can (usually) get a few breakfast meals out of one dish!
---
Apple Butter & Raisin Bread Breakfast Casserole
1 pound maple flavored breakfast sausage
5-6 cups torn raisin bread
4 ounces goat cheese, crumbled
1 cup apple butter
3 large eggs
 2 cups ½ & ½
4 tablespoons maple syrup
1 teaspoon allspice
½ teaspoon salt
1 teaspoon vanilla extract
 
Pre-heat oven to 350 °F.
In a non-stick saute pan, brown and crumble the sausage; drain. Add the sausage to a large bowl, along with the raisin bread, goat cheese, and apple butter and mix to combine.  Pour the sausage mixture into a greased 3 quart (2.8L) casserole dish.
In a separate bowl, mix together the remaining ingredients, stirring to combine.  Pour the egg mixture over the bread mixture in the casserole dish.  Bake uncovered for 45-50 minutes or until the eggs are set. Let cool a few minutes before serving.
(144)