Cheese is a staple food item in this house.  We love the full spectrum: cheddar for tacos and sandwiches to flavored, specialty cheeses.  When I saw a unique jam (lingonberry) to try, I just knew I wanted to marry it with a spreadable cheese.
Before I go any further, perhaps you are wondering what is a lingonberry? It is a fruit of an evergreen shrub that is popular in Scandinavian cooking. It is similar in color and taste to the cranberry. If you can't find lingonberry at your local store, just substitute a cranberry sauce or jam.
To make a colorful appetizer for Christmas, I decided to blend the lingonberry jam with some soft goat cheese and crushed pistachios.  Not only does it make for a pretty display, it is just as delicious as any of the pre-blended brands you can buy.
The recipe also lends itself to versatility.  I look forward to trying a blend of goat cheese with blueberry jam and quince paste, just to name a few.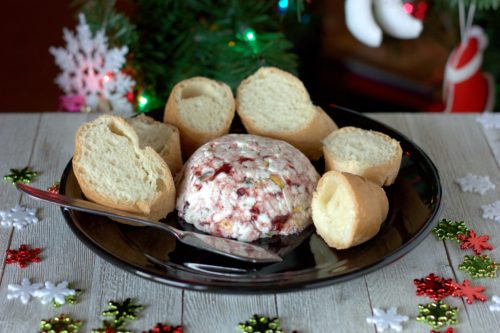 ---
Lingonberry Goat Cheese Spread
4 ounces goat cheese
2 tablespoons crushed pistachios
2 tablespoons lingonberry jam*
In a large bowl, stir together the goat cheese and pistachios until well blended.  Next, stir in the jam just until streaks of red and white remain.  Line a small bowl with plastic wrap and fold in the cheese. Press the cheese into the bowl to form.  Place a plate over the bottom of the bowl and invert; remove the plastic wrap and serve with crackers or bread.
*substitute another jelly or jam, such as cranberry, if desired
(277)