For picnics or other summer gatherings, I find an ice box cake is an easy treat to make. The work is done ahead of time, and they tend to be crowd pleasers. For my latest ice box cake I wanted to make a take on an American classic – the Apple Pie.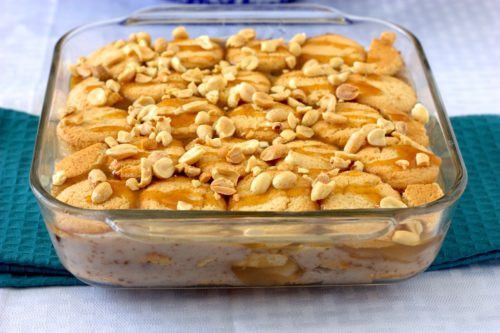 This Apple Pie Ice Box Cake layers apple snaps or vanilla wafers with spiced vanilla pudding, and apple pie filling. The final touch is a drizzle or caramel sauce and peanuts, which adds a teaser of candy apple to the cake. It should be no surprise that my kids loved this dessert. A serving or two may have even disappeared at breakfast time!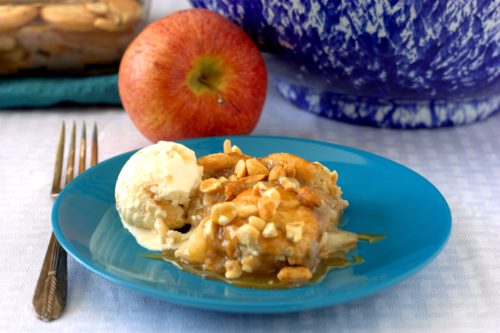 Apple Pie Ice Box Cake
12 ounces apple snap cookies or vanilla wafer cookies
2 cups vanilla pudding
1 teaspoon apple pie spice
21 ounce can apple pie filing
¼ cup caramel sauce
¼ cup dry roasted peanuts
Line to bottom of an 8 inch x 8 inch dish with 1/3 or the cookies. Stir the apple pie spice into the vanilla pudding, and then evenly pour 1 cup of the pudding over the cookies. Next evenly pour half of the apple pie filling over the pudding. Add another layer of cookies on top and repeat the pudding and apple pie filling layers. Place a third and final layer of cookies on top, and refrigerate overnight or for at least 4 hours. Before serving, drizzle the caramel sauce on top and sprinkle with the peanuts. Cut and serve.
(151)