The summertime heat often begs for meals that require little cooking or are lighter fare. With that in mind I wanted to try a stuffed tomato this week.  For the filling I chose to use a mix of asparagus, red onion, and shrimp for a delicious and colorful dish.  The dressing was a mix of tomato, sriracha powder and mayonnaise, which gave a nice kick to the filling.  The result was a simple yet satisfying dinner.  What summertime meals do you enjoy?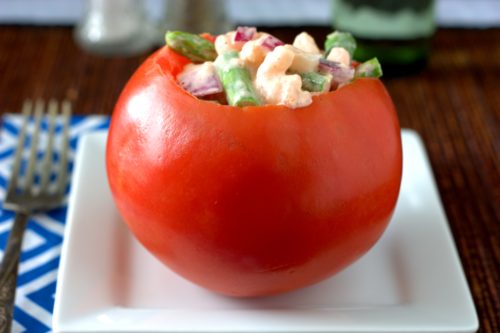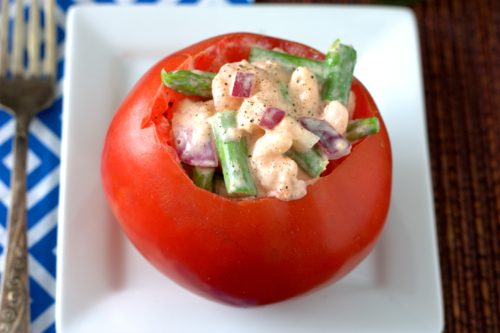 Stuffed Tomatoes
½ lb asparagus, cut into ½ inch pieces
½ cup mayonnaise
¼ teaspoon salt
¼ teaspoon pepper
¼ teaspoon sriracha powder
4 large beefsteak tomatoes (~3 lbs)
½ lb small cooked and peeled shrimp, thawed and drained
½ cup diced red onion
Bring 2 cup of water to a boil in a medium sized sauce pan. Blanch the asparagus for 3 minutes, then remove and place in ice water.  Remove the centers from the tomatoes, reserving about ½ lb of the scooped out tomato for the sauce.  Add the reserved tomato to a food processor, along with the mayonnaise, salt, pepper, and sriracha powder. Drain the asparagus and add to a large bowl along with the shrimp and onion.  Pour the sauce over the shrimp and stir to coat.  Stuff the tomatoes with the shrimp mixture and serve immediately.
(187)