Many Thanksgiving gatherings include a green bean casserole. There is no denying the creamy goodness of such a casserole, but I wanted to test out a version using asparagus (a favorite vegetable in my family) with a homemade sauce. 
Parboiled asparagus, get coated in a generous amount of a cream sauce, and mixed with sauuted onion, garlic, and cheese. Once baked and bubbly, it gets a dusting of crumbled bacon.  I'm sure this dish will be irresistible at our Holiday feast!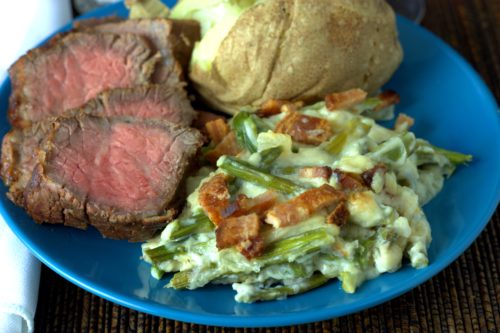 ---
Asparagus Casserole
2 lbs asparagus
6 tablespoons butter, divided
1 cup diced yellow onion
½ tablespoon freshly minced garlic
4 tablespoons flour
1 ½ cups ½ and ½
¼ teaspoon salt
¼ teaspoon black pepper
2 cups shredded Monterey jack cheese
½ cup cooked and crumbled bacon
Bring 4 cups of water to a boil in a large pot.  Add the asparagus and boil for 5minutes; drain and add asparagus to a greased 2.8 Liter casserole dish.
In a non-stick skillet, heat 2 tablespoons of butter.  Once melted, add the onions and saute for 8-10 minutes, or until translucent and begin to brown.  Add the garlic during the last minute of saute; remove from the heat.  Return the non-stick skillet to the stove and melt the remaining butter over medium heat.  Add the flour to the butter and stir frequently for 2-3 minutes.  Slowly add the half & half, stirring until smooth and sauce begins to thicken.  Add the salt and pepper, then pour over the asparagus.  Add the onions, garlic, and Monterey jack cheese to the asparagus, and gently toss to evenly coat the asparagus with the sauce and cheese.
Heat oven to 350°F. Bake the casserole for 20 minutes, then top the casserole with the bacon and bake for 10 minutes longer, or until the casserole is hot and bubbly. Serve; refrigerate any leftovers.
(140)