I like to make a big pot of chili as an easy dinner that provides plenty of leftovers for multiple meals (lunch included).  I tend to gravitate towards beef chili, but this week I was in the mood for a Pork Green Chili.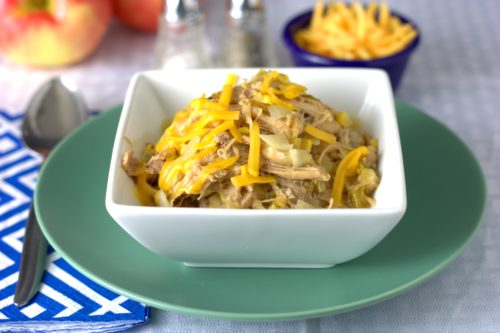 I kept it simple by using my crock pot.  A pork loin was cooked until tender and easy to shred, and then creamed corn, green salsa, onions, and beans were added to make a hearty and tasty chili.  The green salsa had a fair amount of kick, providing a great base for the chili.  We ate ours with cheddar cheese grated on top, but a Monterey jack would compliment the dish just as well.
I'm sure I will tinker with this chili the next time I make it. I can never seem to make chili the same way twice.  What is your favorite chili mix in?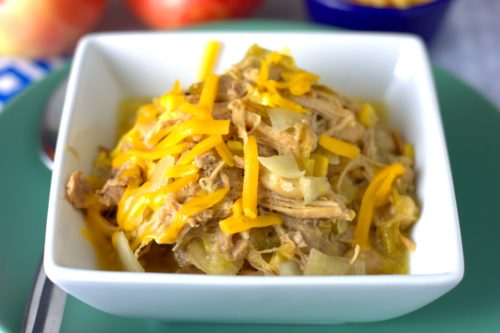 ---
Pork Green Chili
4 lb pork loin
2 cups chicken stock
1 cup diced yellow onion
2 cups jarred green salsa
One, 14 ounce can creamed corn
One 15 ounce can northern beans, drained
1 teaspoon garlic powder
½ teaspoon cumin
Cheese for serving (optional) 
Place the pork loin in a crock pot with 2 cups of chicken stock on high for 4-6 hrs. Skim off the fat and shred, then add onion, salsa, corn, beans, cumin, and garlic.  Stir to combine and cook on high for 1 hour longer. Serve; refrigerate any leftovers.
Notes:  Looking for the same amount of kick? I used 505 Southwestern hatch green chili in medium for my chili. I was not sponsored for this post.
(116)