You know me, I often like to try something new and different. This week I wanted to try ground boar (which I found in the freezer section of my local grocery store).  I decided to use the boar in a hearty, wintery ragout.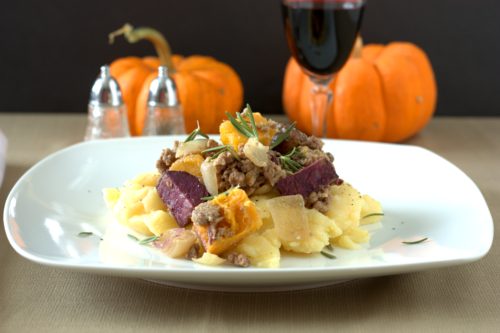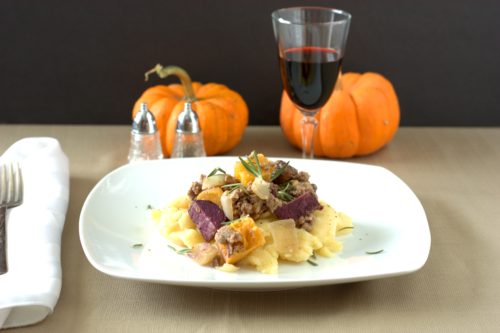 A mixture of roasted acorn squash, mushrooms, and purple potatoes, was tossed with a boar and rosemary sauce. I served the ragout over soft polenta, for a beautiful (and filling!) dinner.  The true test – would the kids eat it?  Sure enough, they asked for seconds of the nutty tasting boar ragout.  I'm glad they are willing to try all of mom's wild new dishes!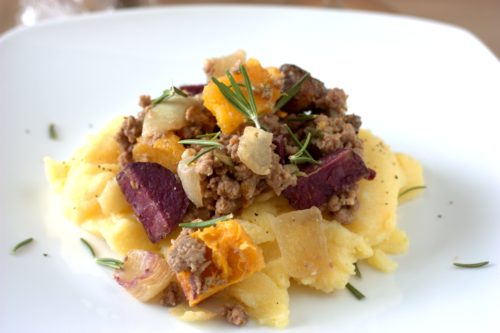 ---
Boar Ragout
1 small acorn squash
½ pound purple potatoes
1 cup chopped yellow onion
2 tablespoons olive oil
8 ounces baby bella mushrooms
1 lb boar meat
½ tablespoon fresh rosemary
½ tablespoon freshly minced garlic
2 tablespoons flour
1 cup beef stock
Polenta for serving (optional)
 
Heat oven to 350°F. Slice acorn squash in half, and remove seeds.  Cut in half moons and place on a greased baking sheet, cut side down.  Cut purple potatoes into 1 inch width circles, then cut into half moons; place on a greased large baking sheet along with onions.  Place both baking sheets in oven and bake for 30 minutes or until acorn squash and potatoes are tender.  Remove peels from squash and cut into chunks.
 Meanwhile,  heat oil in a nonstick skillet over medium high heat.  Add mushrooms and cook for 5 minutes, or until browned.  Transfer mushrooms to a large bowl.  Add boar meat and brown over medium heat, about 10 minutes.  Add in rosemary, garlic, flour, and stock and simmer, stirring to mix in flour.  Remove from heat and stir in mushrooms, squash, and potatoes.   Serve with polenta, if desired.
(180)