I love watching cooking shows (I'm sure you aren't surprised), including Chopped.  I am always amazed by the random mix of ingredients in the baskets and the creative recipes that the chefs create.  I guess that is why I just had to try the Chopped contest sponsored by Del Monte and Food Network.  The virtual basket included fresh lemon, fresh basil, feta cheese, and one can of Del Monte corn. I had a few ideas that came to mind, but one I wanted to try was a Corn Alfredo served over Penne and Chicken.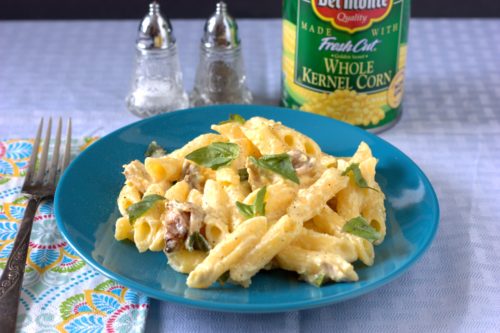 I replaced some the cream and flour typically used in an alfredo sauce with pureed corn, which also was a great way to sneak in some veggies. The alfredo sauce was seasoned with fresh lemon zest and feta to create a fresh and unique sauce that wowed my family.  I made a simple dish by tossing it with pasta and chicken, and then garnished it with fresh basil and black pepper. 
My recipe ended up in the middle of the gallery of entries for the contest.  Just browsing the submittals makes me hungry.  I can't wait to try some of these other corn inspired dishes!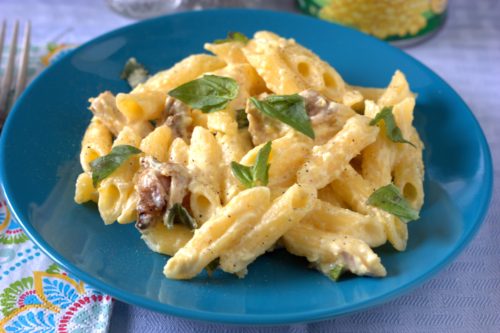 ---
Corn Alfredo Sauce with Penne, Chicken, and Basil
1 ¼ cup heavy whipping cream
15.25 ounce can of Del Monte Whole Kernel Corn, drained
Zest of 1 lemon
1 cup crumbled feta cheese
1 pound penne pasta, cooked and drained
1 cup chopped, pre-cooked chicken
0.25 ounces fresh basil chiffonade
Black pepper for garnish
To make the corn alfredo sauce, place  whipping cream, corn, and lemon zest in a medium sized sauce pan and use an immersion blender to process until smooth.  Heat over medium heat until it reaches a simmer, then stir in feta cheese. Use the immersion blender again to process until smooth, then bring the sauce back up to a simmer. Place the pasta in a large bowl, remove the sauce from the heat and pour over the pasta.  Add the chicken, and stir until the pasta and chicken are coated with the corn alfredo sauce.  Garnish with the fresh basil and a dusting of black pepper and serve.
(249)