At a gathering just before Thanksgiving, we were discussing everyone's favorite pie. My husband brought up his love of cheesecake and cannoli, rather than the typical turkey day offerings. The table threw down a challenge that I readily accepted – create a cannoli cheesecake.
While a quick search on the internet brings up a few recipes, most include cream cheese. My goal was to create a ricotta cheese only cheesecake, to keep it as close to tasting like a cannoli as possible. I decided to start with a recipe from Buddy Valastro for a traditional ricotta cheesecake. I modified the recipe to include chocolate chips and a crust made of pistachios and Biscoff cookies.
Using only ricotta results in a lighter texture, which was a nice change from a New York style cheesecake.  While the cake isn't as sweet as cannoli filling, it was still a hit!
If a large cheesecake is too much of a commitment, you can always try my Chocolate Cherry Cannoli Cups instead – either will  make for happy guests.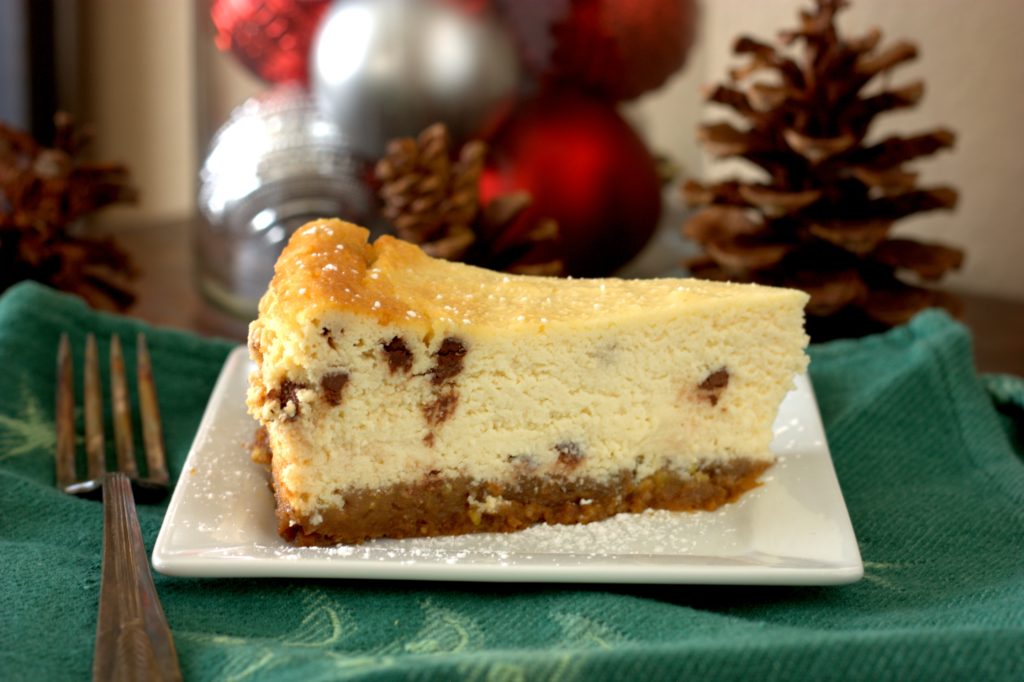 ---
Cannoli Cheesecake
Butter or non-stick spray for greasing pan
24 Biscoff cookies (~1.5 cups once crushed)
½ cup shelled pistachios
4 tablespoons butter, melted
3 pounds whole-milk ricotta
1 cup sugar
4 large eggs, separated
Finely grated zest of 1 large lemon
1 tablespoon pure vanilla extract
½ cup mini chocolate chips
Position a rack in the center of the oven. Preheat to 400ºF. Butter a 9-inch spring form panand place on a baking sheet.
Crush the cookies and the pistachios until fine, then mix with the melted butter. Press into the bottom of the spring form pan. Bake for 5 minutes; remove from the oven and let cool.

In a stand mixer fit with the paddle, beat the ricotta cheese, sugar, egg yolks, lemon zest, and vanilla until very smooth.
Put the egg whites in a separate mixer bowl and whip until soft peaks form. Fold the whites by thirds into the cheese mixture, then stir in the chocolate chips. Pour mixture into the pan over the crust and level it.

Put the cake in the oven and immediately lower the heat to 350ºF. Bake until the cake has risen higher on the sides than in the middle and is set but jiggling in the center, 1 hour, 10 minutes. Turn off the oven and prop the door open (using a prop such as a wine cork or large wooden clothes pin; Be careful not to let it fall into the oven). Let the cake cool completely in the oven for 1 hour, then cover the cake with plastic wrap and refrigerate it for at least 3 hours or overnight before removing the spring form sides. Slice and serve.
(330)