A few months back I saw a post for a pumpkin cheesecake trifle, which sounded like a delightful holiday dessert. It got my attention because (1) my husband LOVES cheesecake and (2) I love pumpkin pie. Since some family gatherings don't always net a hoard of people, being able to combine two favorite desserts instead of having multiple dishes to tempt us seems great.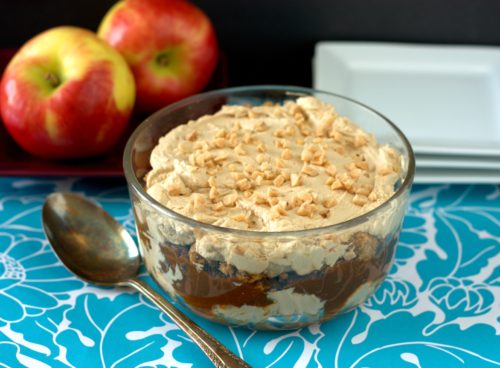 Over the last few weeks I've seen a variety of Thanksgiving trifles pop up, so I have been itching to put my spin on one. For my recipe I wanted to keep the pumpkin and cheesecake as two separate layers.  The pumpkin butter is quickly made with a bit of brown sugar, maple syrup, and a blend of spices.  The richly flavored butter is a perfect complement to the cheesecake layer. The fluffy cheesecake layer is part cream cheese part whipped cream, and flavored with maple extract.
The final piece to my trifle is soft, gingerbread cookies.  I used store bought cookies to keep prep time down, but feel free to make your own.  Layers of the gingerbread cookies, pumpkin butter, and cheesecake filling were sprinkled with a few toffee bits as a final touch.  Both my husband and I gave the trifle a thumbs up, I think we have our Thanksgiving dessert figured out!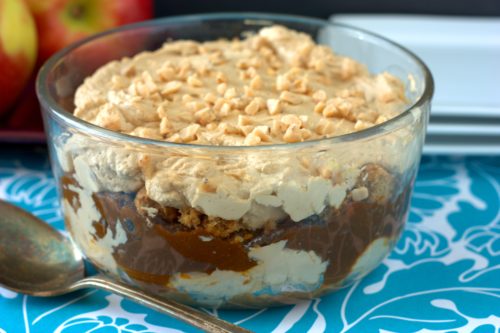 ---
Pumpkin Butter Cheesecake Trifle
1 15 ounce can pumpkin
½ cup brown sugar
¼ cup maple syrup
½ teaspoon Saigon cinnamon
½ teaspoon cloves
1/4 teaspoon ground ginger
1/4 teaspoon allspice
one 8-ounce package of cream cheese, softened at room temperature for an hour
2 cups whipping cream
8 tablespoons powdered sugar
1 tablespoon maple extract
24 soft, gingerbread cookies*
toffee bits for garnish
Place the pumpkin, brown sugar, maple syrup, cinnamon, cloves, ginger, and allspice in a medium sized pan.  Stir to mix, then place over low heat.  Cook for 15 minutes, stirring frequently.  Remove from the heat and let cool completely.
Whip the cream cheese in a small bowl until soft and light. In a larger bowl whip the cream until it forms soft peaks then add the cream cheese and continue whipping on high speed until it forms stiff peaks. Beat in the sugar and maple extract.
Break the cookies into small chunks. Add half to the bottom of a trifle bowl or two 7-inch diameter bowls, then spread half of the cheesecake filling on top. Next layer the pumpkin butter on top, followed by a layer of the remaining cookies.  End with a layer of the cheesecake, sprinkling on toffee bits if desired. Refrigerate until ready to serve.
*I made mine gluten free using Enjoy Life cookies
(136)