My family LOVES tacos. It seems like we easily eat them once a week, but we do venture out to other Mexican fare.  These Chipotle Chicken Crantadas are a dish I created for a contest about a decade ago, though I have revamped it some since then.  This dish is a summery version of a tostada, where refried beans are swapped for a corn spread, and the salsa features dried cranberries.  The sweetness of the cranberries is offset by the smokiness of the chipotle sauce on the shredded chicken.  
Maybe it is time we switch to a weekly Chipotle Chicken Crantada night!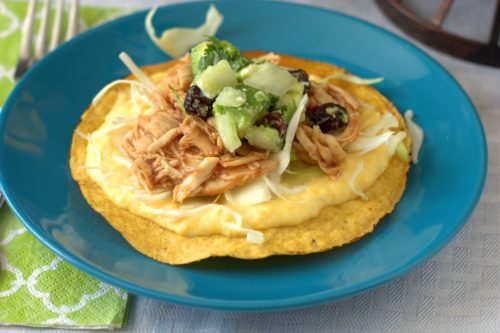 ---
Chipotle Chicken Crantadas
 2 tablespoons jarred, diced chipotle
16 oz can jellied cranberry sauce
 2 lbs fresh,boneless, skinless chicken breasts
 1 cup  plain greek yogurt
4 cup frozen, super sweet corn, thawed
1 t salt
1 t garlic
 2 avocado, pitted and chopped
1 cup yellow onion, chopped
1 cup dried cranberries
6 ounces queso fresco, crumbled
8 tablespoons fresh cilantro, finely chopped
4 Tablespoons lime juice
 16 Tostada shells
 2 Cups shredded green cabbage (coleslaw mix)
  
In a  large bowl mix together chipotle chilies, and cranberry sauce.
 Add a small amount of the sauce to the bottom of a 4 quart crock pot, place the chicken breasts on top, then cover with the rest of the sauce.  Cook on low 4-5 hrs (or on high for 2-3 hrs).  
Just before serving time, prepare the corn spread. Add the yogurt, corn, salt, and garlic to a food processor, and process until a smooth spread forms.   
To make the avocado-cranberry salsa, mix the avocado, onion, dried cranberries, queso fresco, cilantro, and lime juice in a medium bowl, until evenly combined. 
When the chicken is ready, shred the chicken in the crock pot, and stirring to make sure the sauce is evenly distributed.  To plate the crantadas, place 1/16 of the corn spread onto each of the tostadas, layer with equal amounts of the shredded cabbage, and then equal amounts of the shredded chicken.  Top each tostada with equal amounts of the avocado-cranberry salsa and serve.
(160)