In my opinion, corn is a great compliment to any BBQ.  As summer draws near, magazines and the internet abound with a variety of grilled corn recipes, including street corn recipes.  It is hard to read the recipes without making your mouth water, but I have always wondered how I could serve the slathered corn cobs at a party without (a) making a giant mess or (b) compromising time with by guests. What about making a salad with grilled corn instead?
I searched for street corn salads, and most had a Mexican flavor profile.  In this recipe I went for a Southern spin, with the idea of mixing in flavors that would be similar to pimento cheese.  This Southern Street Corn Salad was a hit with my family and I can't wait to serve it at a BBQ gathering. Enjoy!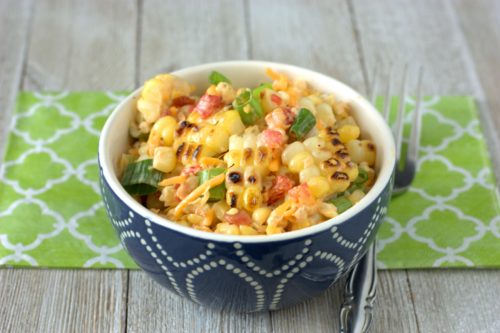 ---
Southern Street Corn Salad
6 ears fresh corn, husked
½ tablespoon melted butter
¼ cup mayonnaise
½ cup shredded sharp cheddar cheese
6 tablespoons diced green onions
2 tablespoons real bacon bits
2 ounce jar diced pimentos, drained
1 teaspoon Old Bay seasoning
Preheat grill on medium high heat. Brush corn with melted butter, then grill corn for 8-10 minutes, turning every 2 minutes, until slightly charred on all sides. Cool and cut corn kernels off cob (will make approximately 4 cups of kernels).
In a large bowl, stir together the mayonnaise, cheddar cheese, green onions, bacon bits, pimentos, and Old Bay seasoning.  Add the corn kernels and stir until coated.  Refrigerate until ready to serve.
Note: recipe was entered in the Firehouse Subs Side Dish Challenge
(323)