Impressive desserts don't have to be complicated.  Take these chocolate covered stuffed raspberries for example.  They look elegant, yet are really easy to put together.  I chose to create a lemon-mascarpone filling, but a variety of other flavors or creams would do.  A few minutes in the freezer is all they need to be cold enough for the magic shell sauce to harden, resulting in a decadent dessert fit for any occasion. Just how easy these Chocolate Covered Stuffed Raspberries are will be our secret.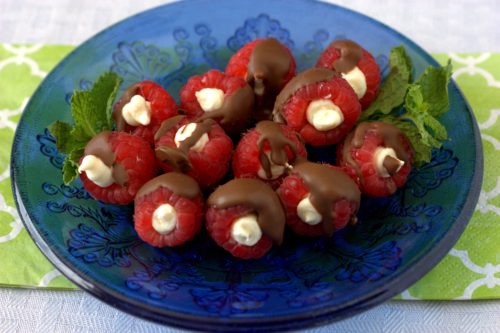 ---
Chocolate Covered Stuffed Raspberries
2 pints fresh raspberries
Mascarpone filling (see below)
Magic shell sauce, chocolate
Place the filling in a squeeze bottle and gently fill each raspberry with mascarpone filling, laying them on a shallow pan or plate when filled. Reserve the remaining filling for another use. Place the plate in the freezer for ten minutes to chill the raspberries.  Shake the magic shell sauce, then pour over the raspberries to coat.  Once the coating has set, serve or store in the refrigerator until ready to serve.
Mascarpone Filling
4 ounces mascarpone cheese
¼ cup of powdered sugar
1 tablespoon lemon juice
Mix together the mascarpone, sugar, and lemon juice. Notes: you will have mascarpone filling left over.  I enjoy mine as a topping to pancakes, just as one example.
(169)