While the dish may be named Monster Fudge, it really doesn't have anything to do with the fact that Halloween is just around the corner. This recipe idea came from Monster Cookies, which are peanut butter-oatmeal cookies with chocolate chips and M&Ms®.
My thinking was that this particular flavor combination shouldn't be confined only to cookies. Why not make a loaded peanut butter fudge?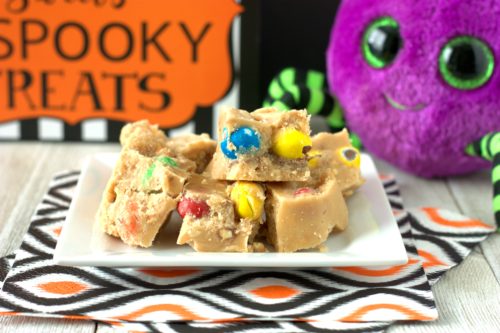 I started with a basic, easy peanut butter fudge recipe (using powdered sugar eliminates the concern of grainy texture from traditional recipes). Then I added chunks of granola bars for the oat and chocolate chips, and mixed in caramel flavored M&Ms® for a fudge that is hard to resist. As you can imagine, this dessert was a hit at work and at home. So much so, I think this fudge will have to be added to my holiday baking routine!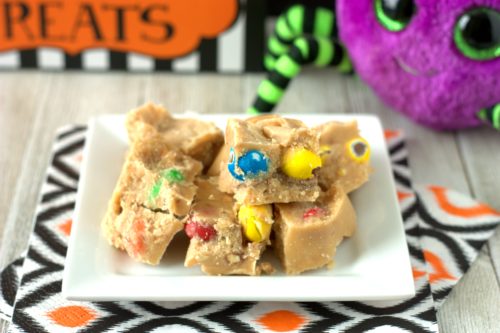 ---
Monster Fudge
8 ounces salted butter
1 cup crunchy peanut butter
1 teaspoon vanilla
1 pound powdered sugar
2 chewy, chocolate chip granola bars, broken into small chunks*
1 cup caramel M&Ms®
Coat an 8 inch x 8 inch baking pan with non-stick spray and line with parchment paper. Place butter and peanut butter in a large sized sauce pan. Melt over medium heat until smooth. Remove from heat and stir in vanilla and powdered sugar. Stir in granola pieces and M&Ms, then spread into prepared baking dish. Refrigerate for at least 4 hours, then cut into small squares to serve. Keep refrigerated.
*Use your favorite granola bar. Dish can be made gluten free by appropriate selection of granola bar.
(152)