If given a choice, my children would eat peanut butter every day for breakfast.  On top of the great taste, they enjoy getting to make breakfast on their own (if you can really call smothering a piece of bread with peanut butter cooking). Needless to say, we dissuade them with other, more filling choices.
This week I wanted to make something that was just as easy to serve, yet kept them begging to eat.  I made Loaded Peanut Butter Granola Bars. In addition to the peanut butter, the bars are filled with steel cut oats, puffed corn cereal, nuts, dates, and chia seeds. The kids LOVED them, and I am thrilled they get fiber, protein, and omega-3s. A family win!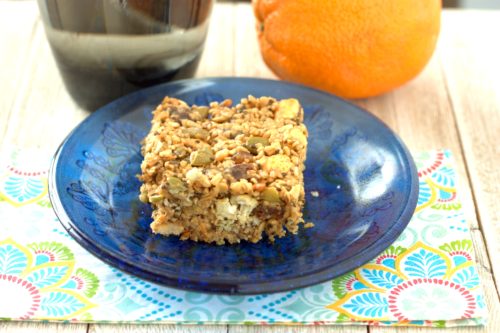 ---
Loaded Peanut Butter Granola Bars
3 cups steel cut oats
2 cups puffed corn cereal
1 cup chopped dates
1 cup pepitas
¼ cup chia seeds
¾ cup crunchy peanut butter
½ cup honey
3 tablespoons coconut oil
In a large bowl, mix together the oats, cereal, dates, pepitas, and chia seeds. In a small sauce pan, combine the peanut butter, honey, and oil. Heat over medium heat until melted. Pour over the oat mixture and stir to coat.  Cover the bottom and sides of a 13 x 9-inch baking pan with foil and cover with cooking spray, then spread in the granola mixture and press firmly.  Cover with a sheet of waxed paper and cover with another baking pan and weigh down.  Refrigerate for 1-2 hours than cut into bars.
Note: I used the recipe for Chocolate Monkey Bars from BH&G as a starting point for the peanut butter binder and wet to dry ratio.  The possibility of mix-ins are endless.
(122)