These days it seems that the arrival of fall is announced with pumpkin everything.  Yet when thanksgiving rolls around, people are divided between pumpkin pie and pecan pie. This Fall Favorites Trail Mix allows you to stop the bickering.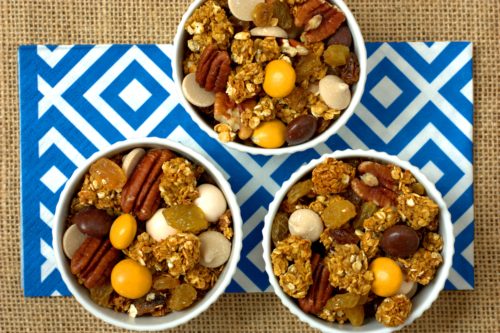 Homemade pumpkin granola, pecan pie M&Ms, caramel pieces, and raisins get tossed together for a sweet treat. It's such a hit, you will have to make batch after batch to keep it on hand.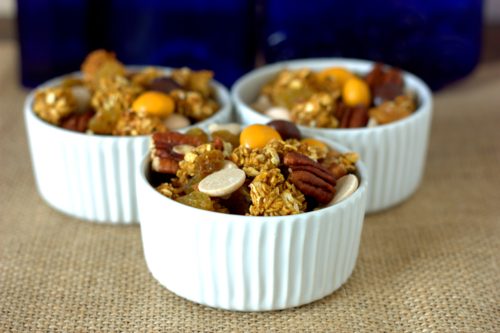 ---
Fall Favorites Trail Mix
½ cup canned pureed pumpkin
½ cup honey
2 tablespoons canola oil
1 teaspoon maple extract
1 teaspoon apple pie spice
¼ teaspoon salt
4 cups quick cook oats
5 ounces pecan pie M&Ms (1/2 a bag)
2 ounces caramel baking chips
1 cup golden raisins
1 cup pecans
Preheat the oven to 325°F.  Line a half sheet baking pan with parchment paper.  Stir together the pumpkin, honey, oil, maple extract, apple pie spice, and salt.  Fold in the oats until coated evenly.  Spread the oats onto the parchment lined pan and spread evenly.  Bake for 20 minutes, stir and redistribute and then bake for 20-30 minutes longer until golden brown. Cool completely, than add to a large container.  Add the M&Ms, caramel baking chips, raisins, and pecans and toss gently.
(147)