This week I had a taste for lox and all of the typical accompaniments – tomatoes, cream cheese, onions, etc.  But instead of making a breakfast spread, I turned it into a Smoked Salmon Alfredo.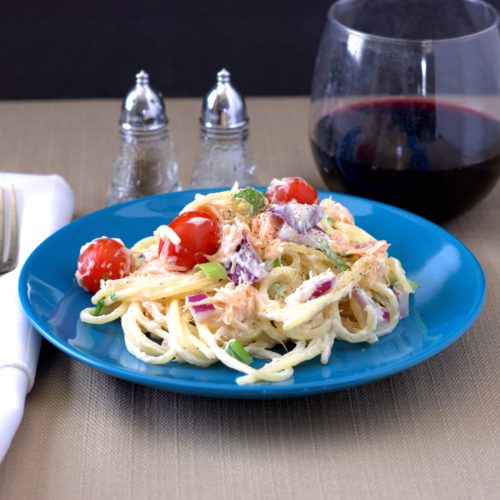 The cream cheese was blended into a smooth sauce for spaghetti, which served as the base for my other mix-ins.  The star of the entree is the smoked salmon, which is broken into chunks and scattered through the dish. Even my husband (who isn't super fond of a pasta-seafood combo) loved it. I hope you enjoy this spin on a classic just as much!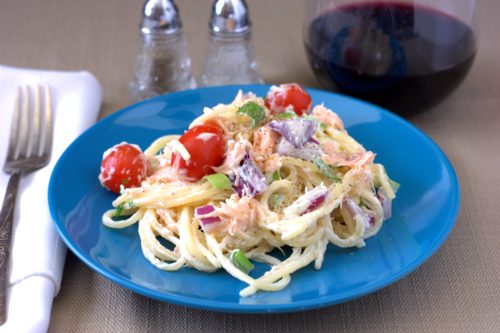 ---
Smoked Salmon Alfredo
8 ounces cream cheese
4 ounce half and half
1 lb spaghetti
8 ounces baby tomatoes
½ teaspoon salt
½ teaspoon black pepper
½ cup diced green onions
½ cup diced red onion
6 ounces smoked salmon, broken into chunks
In a small sauce pan, place the cream cheese and half and half and simmer over medium heat until the cream cheese is melt; stirring frequently.  While the sauce is simmering, cook the pasta according to package directions. During the last minute of pasta cooking, add the tomatoes to the water with the pasta.  Drain the pasta and tomatoes and add to a large bowl.  Stir the salt and pepper in to the cream sauce, and pour the sauce over the pasta and stir to coat.  Add the green onions, red onions, and smoked salmon to the pasta, stir to evenly mix and serve.
(189)