I don't know anyone who can resist a s'more. The combo of chocolate, graham cracker, and marshmallow is hard to beat. As a way to combat this unusually early heat spell I was all about making a version of the treat that involved ice cream. Why not try a super easy version of a baked Alaska? A baked Alaska is typically a cake covered with a mound of ice cream that has a meringue crust. For my s'more version I substituted a pre-made graham cracker crust for the cake and marshmallow creme for the meringue.
This meant that the prep was very simple, and I was able to use a crème brulee torch (whoo hoo! Another use for this obscure kitchen item!) to caramelize the fluff rather than messing around with meringue and turning on the oven.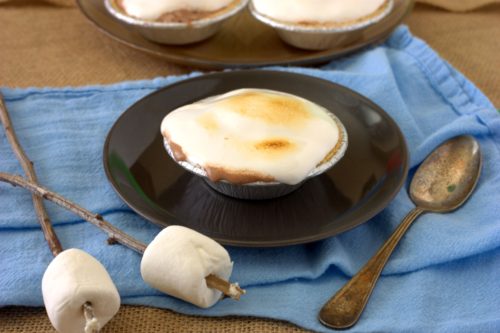 To get a rich, chocolate flavor I used a fudge swirl chocolate ice cream, though you can use your favorite chocolate ice cream.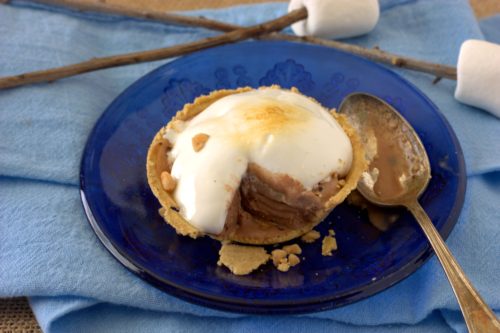 I made this in both a 9-inch crust as well as the mini 3-inch crusts with ease. Only the minis are shown in the photos since we devoured the full pie version before I could get photos in. My guests and family all enjoyed the treat – I hope yours does too!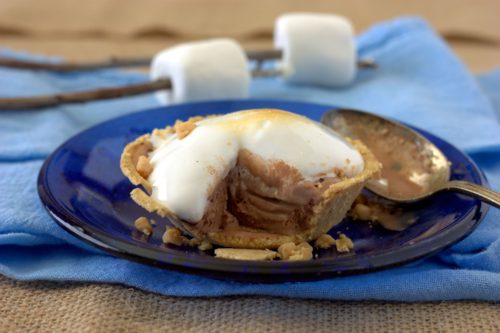 Update: I managed to snag a photo of a slice from a 9-inch pie version before it was gone!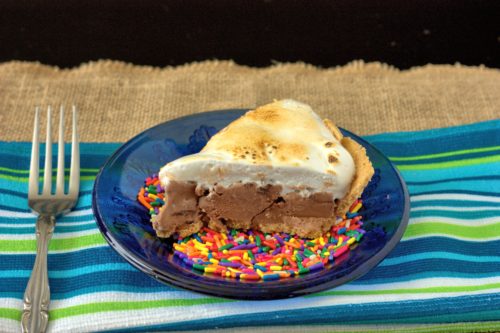 ---
S'more Baked Alaska
2 cups chocolate ice cream
9-inch premade graham cracker crust or 6 mini (~3-inch) graham cracker crusts
7 ounce jar of marshmallow crème
Thaw ice cream for 10-15 minutes or until easy to scoop. Add the ice cream to the graham cracker crust (or evenly divide between the 6 mini crusts) and refreeze, at least 30 minutes. Pour the marshmallow creme evenly over the top(s) of the ice cream. Use a crème brulee torch and caramelize the top of the marshmallow fluff. Cut the large s'more baked Alaska into wedges and serve (each mini baked Alaska makes one serving).
(342)