A few weeks ago I mentioned that I was trying to prep more food on the weekends to make for easier lunches and no brainer dinners.  With this in mind I have been trying to make a variety of salads – rice, lentil, steel cut oats, etc. My strategy has been to create salads with a good mix of vegetables, fiber, and protein to hopefully provide an interesting lunch while maintaining my energy through the day. The salad I want to share today is my Black Rice & Edamame Salad.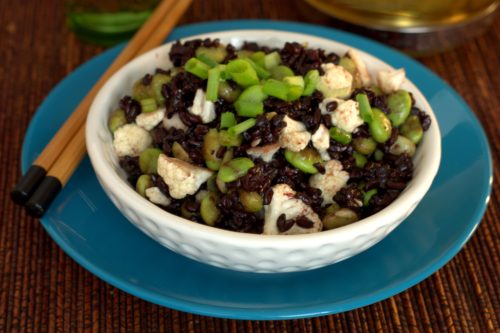 Black rice has higher protein, fiber, and iron content than most other rice varieties and is high in antioxidants.  It has a nutty flavor which makes it a delicious base to build from, and the unique color helps make the dish fun and fresh. To balance the dark color of the rice I added fresh cauliflower and edamame.  Not only is the color contrast visually appealing, but I enjoyed the different textures of the salad (chewy and crunchy at the same time) as well.  I dressed the salad with a light Asian inspired sauce. The soy sauce, ginger and garlic was just enough to compliment the salad without smothering the great flavors of the black rice, edamame, and cauliflower. I hope you enjoy my Black Rice & Edamame Salad as much as I did. Don't be surprised if you see more salad recipes in the upcoming weeks!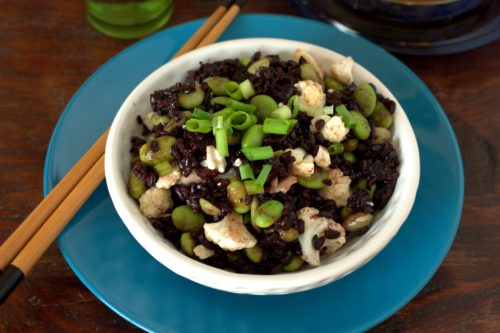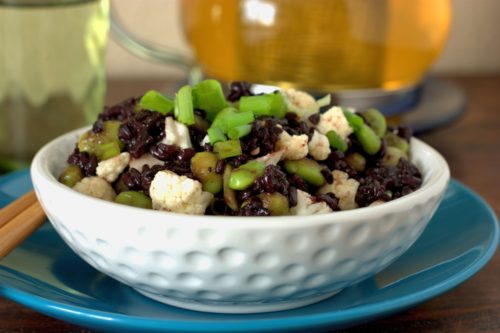 ---
Black Rice & Edamame Salad
1 cup black rice
3 cups water
12 ounces frozen, shelled edamame
2 cups chopped, fresh cauliflower (~ ½ pound)
2 green onions, diced
1/3 cup olive oil
2 tablespoons soy sauce
2 tablespoons honey
2 teaspoon salt
½ teaspoon ground ginger
1 teaspoon garlic powder
Rinse black rice until water comes out clear, than add to a large pot with the water.  Bring to a boil then reduce heat and simmer uncovered until the water is absorbed and the rice is tender and chew, about 30 minutes. Remove from the pot and add to a large bowl.  Meanwhile, cook edamame according to package directions, drain if necessary, and add to the black rice along with the cauliflower and green onions.  In a small bowl mix together the oil, soy sauce, honey, salt, ginger, and garlic and then pour over the black rice salad.
(333)