Since I am still trying to eat a variety of vegetables daily (despite the fact that I no longer need to track my vegetable intake for my health benefits program) I decided to make a vegetable full, fall inspired dish – Stuffed Zucchini. 
What I love about Stuffed Zucchini (or any other vegetable for that matter, like Stuffed Acorn Squash) is that you can really tailor the recipe to what you have on hand.  I went with the classic mirepoix (carrots, celery, and onions) as my main filler outside of the zucchini and pork sausage since I think it adds great color and flavor. You can just as easily omit the extra veggies – it just means your filling will not be as "full" in the zucchini vessel.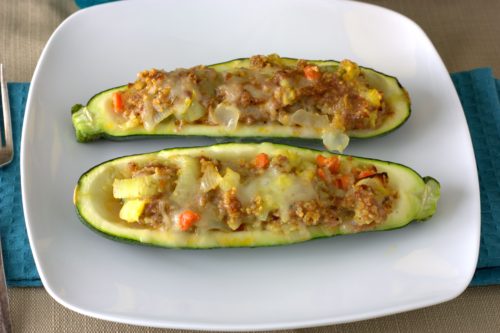 My favorite part about this Stuffed Zucchini recipe is that both my kids ate it without a fuss.  Lately they have been picky or crabby and I'm relieved when they eat a good serving of vegetables without a ton of coaxing.  I should also mention that it was a hit with my husband.  In fact, I had to rush to get some photos in so that he could eat the serving I had set aside for my photography. I count that as a successful dinner!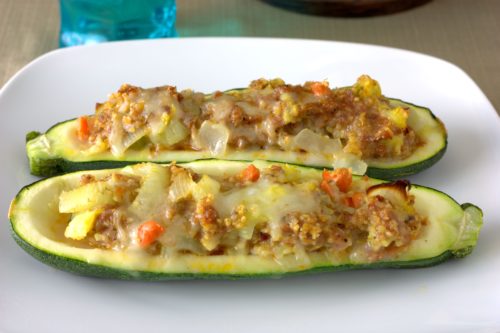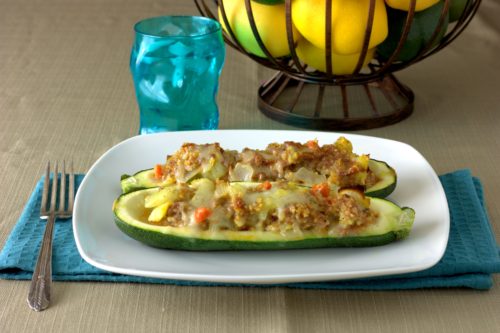 ---
Stuffed Zucchini
4 medium sized zucchini (about 2.5 pounds)
1 tablespoon oil
½ cup diced yellow onion
½ cup diced celery
½ cup diced carrot
1 teaspoon freshly minced garlic
½ cup freshly grated pecorino-Romano cheese
¾ cup seasoned breadcrumbs
1 lb hot Italian pork sausage
½ cup shredded mozzarella
Preheat oven to 375 °F.  Cut the zucchini in half lengthwise, scoop out the center and dice the scooped out zucchini "meat". Place a saute pan over medium heat and add oil.  Once oil is warm, add the onions and saute for 5 minutes.  Add the carrots, celery and diced zucchini and saute another 5 minutes.  Remove from the heat and add to a large bowl, along with garlic, pecorino-Romano cheese, breadcrumbs, and sausage and combine until well mixed.  Evenly divide between the eight zucchini halves and fill the zucchini cavity.  Place stuffed zucchini on a large baking sheet and bake uncovered for 45 minutes or until meat is fully cooked.  During the last five minutes of baking, sprinkle with mozzarella and return to oven to melt cheese.  Remove from oven and serve.
(303)